Matt proposed in 2016, halfway up a mountain on a chairlift in Austria with our skis dangling over pristine snow and the bluest of skies above. It's a good job I said yes or it could have been an awkward ride to the top.
I loved being engaged. Despite being thirty-six and about ten years older than most of my friends when they married, I was in no rush to have a gold ring slipped on the fourth finger of my left hand. Who wants to be The Wife when you can be the sexy-sounding fiancée?
Matt was also happy to delay talking about colour schemes, favours and flower girl dresses as long as possible.

Besides, we were living and working in Malaysia at the time. It was too much to ask friends and family in Europe to travel halfway across the world for our wedding. We'd wait for our contracts to end and return home to England to marry.
At some point, we emerged from our engagement cocoon to begin researching wedding venues in England.

Our fingers excitedly tapped words into search engines.
And then we stumbled upon this information and our fingers paused.

The average cost of a UK wedding in 2016 was £25,090*.

For a one-day celebration! You could put down a small deposit for a flat for that amount, or have some twenty-five holidays, or buy twenty-five thousand lottery tickets!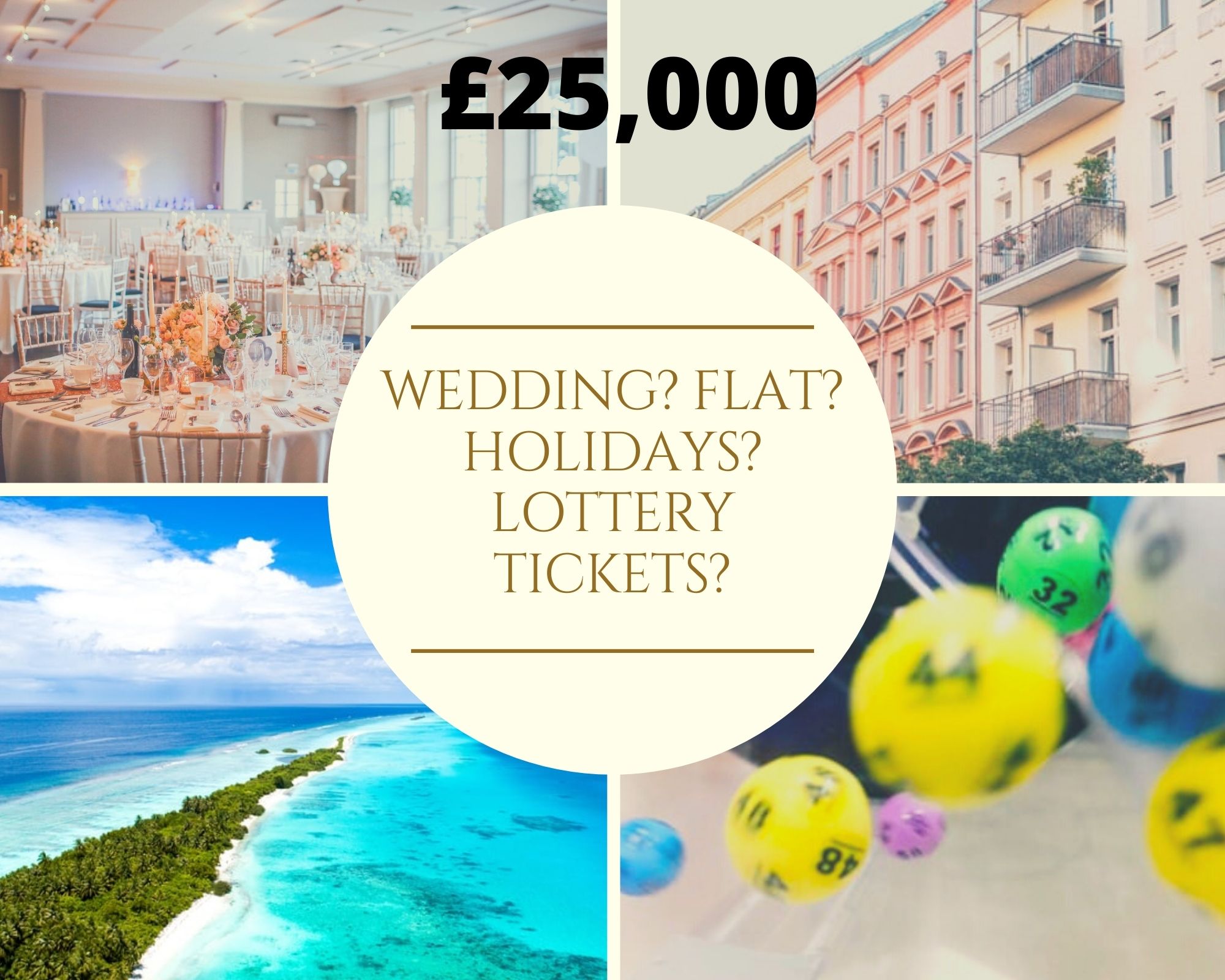 In 2017, we went to a wedding fair whilst home for Christmas. It was pretty horrific. Had we thought about seat covers? Chocolate fountains? Photo booths and singing waiters?

It felt like in order to plan a wedding, you needed bottomless pockets and a Masters in Event Organising.
We weren't against spending money. We'd saved and wanted to organise the best party ever for our families and friends. At what other time in your life do you have such a persuasive reason for getting all the people you love together?
But we wanted to spend money on those things that would add meaningful value to the day and bring the most joy.

How much joy can a chair cover really bring?
Our enthusiasm for wedding planning slipped further when we received a quote from a venue that listed the inclusion of a cake knife as an upselling point between their bronze and silver packages.

"You're flipping joking," Matt said. "What will they charge for next, the friggin' table cloths?"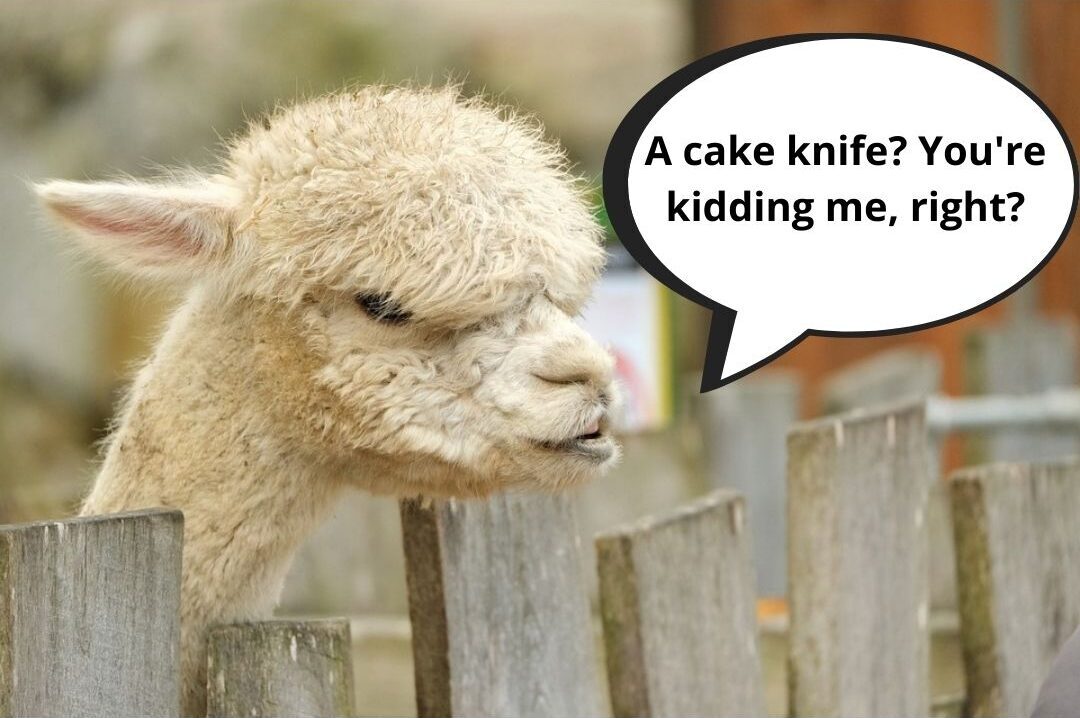 I had to break it to him softly that I had received some quotes where linen was priced separately.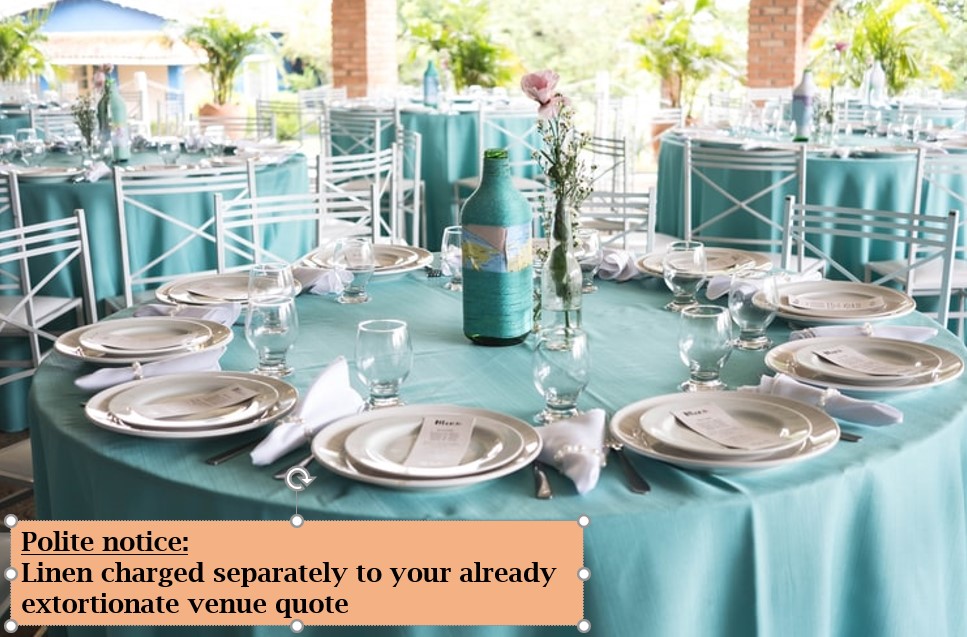 We looked at cheaper venues.

A Yorkshire working men's club had lots of outdoor space but if it rained and we had to eat inside, the barmaid told us they wouldn't be able to move the slot machines. In her sweetness, she did say they'd do their best to squeeze however many tables we needed around them. If there was a rugby match on that day, she'd also tell the players to use the back door to get to the changing rooms.

"No way," Matt said as we trudged back to the car. "I'm not dragging family up from Devon to sit next to one-armed bandits and eat pie and chips looking onto a rugby pitch."

We moved on to consider renting a field.

We were quoted £1,000 for a day of grass.
As you can't organise an outdoor summer wedding in England without contingency plans for wind, rain, or snow, we also got quotes for marquees. The marquee prices didn't include any furnishings – no lighting, floors, tables, chairs, etc.

It was evident a DIY wedding in a field was very quickly going to cost the same, if not more, than a wedding elsewhere.

We were even quoted £1,000 for portaloos – and that was for basic ones. It was recommended we upgraded to "Luxury" for a wedding.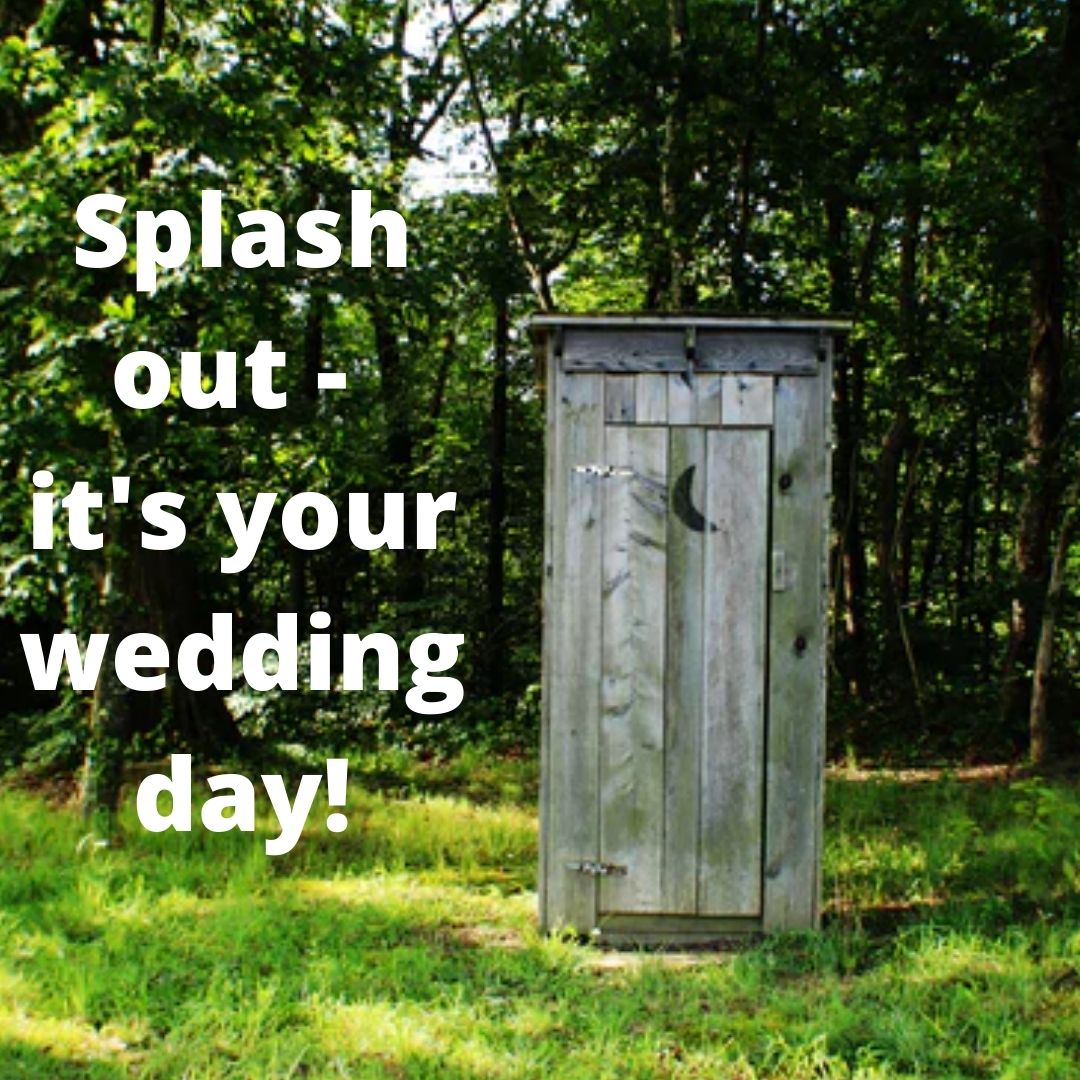 One evening over that Christmas, we sat on my sister's couch with our heads hung low.

There had to be a way to make our money go further; to organise an unforgettable party that was worth what it cost.

"Why don't you get married abroad?" my sister said. "Surely that's much more your kind of thing."

Yes, it was. We were exactly the kind of people who'd love a Destination Wedding; who'd love to say our vows with our feet burying into warm sound and waves lapping gently behind us. But despite what everyone kept advising, we didn't want our wedding day to be for ourselves. We'd lived away from home for several years. We wanted to organise something special for the people we loved. And asking everyone to haul themselves beyond Blighty's frontiers was out of the question. My sister had three children under the age of six, for heaven's sake. We'd never expect her to fly anywhere.

"Crikes Gabs," she said. "We'd bloody love a holiday abroad! Keep it within Europe, and we'll be there with bells on."

This was a revelation.

We made some calls to other relatives.

My sister's stance was a common feeling.

Excitement returned, bubbling in my stomach.

We didn't have to get married in England! We could get married anywhere in Europe!

But where could we have the most fun and make our money go furthest?

Now that was the question.
---
*This is the total cost of the wedding, including everything from the hen do to the honeymoon.