A wee story about a Saturday cycle – from our current doorstep in the south of France (August 2021).


From the Paillon valley in the southeast corner of France, Peillon rises from her rocky perch amongst tree-covered hills. She seems very high. I wonder if we'll make it up to her after a summer of eating, drinking, and not much cycling.
Slowly, we inch towards her in our usual style – pausing whenever we fancy to sip water, take photos, share a thought, or gulp in a few deeper breaths of air. At one stop, we delight in finding some old sweets in our handlebar bag and eagerly unwrap them, anticipating the sweetness of sugar darting into our bloodstreams to give us the boost we need for the final thigh-burning stretch.
The end of tarmac and sight of stone walls brings cheers and high fives. We did it! Now for the views, lunch, coffee, and rest – the elements of a bike ride that motivate me so much to get up hills.

In the car park before the village, laughter, French conversations, and the scraping of cutlery float down from a restaurant terrace on the fringe of the road. I imagine locals and visitors from nearby villages telling stories and jokes between sips of chilled rosé and for a second, have terrace envy. How lovely would it be to sit with family or friends over a long meal with copious glasses of wine, the hot Mediterranean sun kept at bay by a vine-covered canopy and a slight mountain breeze cooling your skin every now and again; to have fresh French food brought out to you and to notice time's inevitable progression only when you occasionally look up, out to the rocks above the valley, and clock that the sun has moved a little further to the right even though there is still that brightness to the scene that so many – painters, tourists, ourselves – flock to this region for.

But then I see the cost of just a coffee and I'm glad we packed a picnic and flask in our pannier.


We stagger into the first deserted alleyway with buildings whose narrow slit windows would make them appear prison-like if it weren't for the plants vibrantly reaching towards them. Immaculate passageways and stone steps abound and the stair scene from David Bowie's "Labyrinth" pops into my head; a film I haven't watched since I was a child.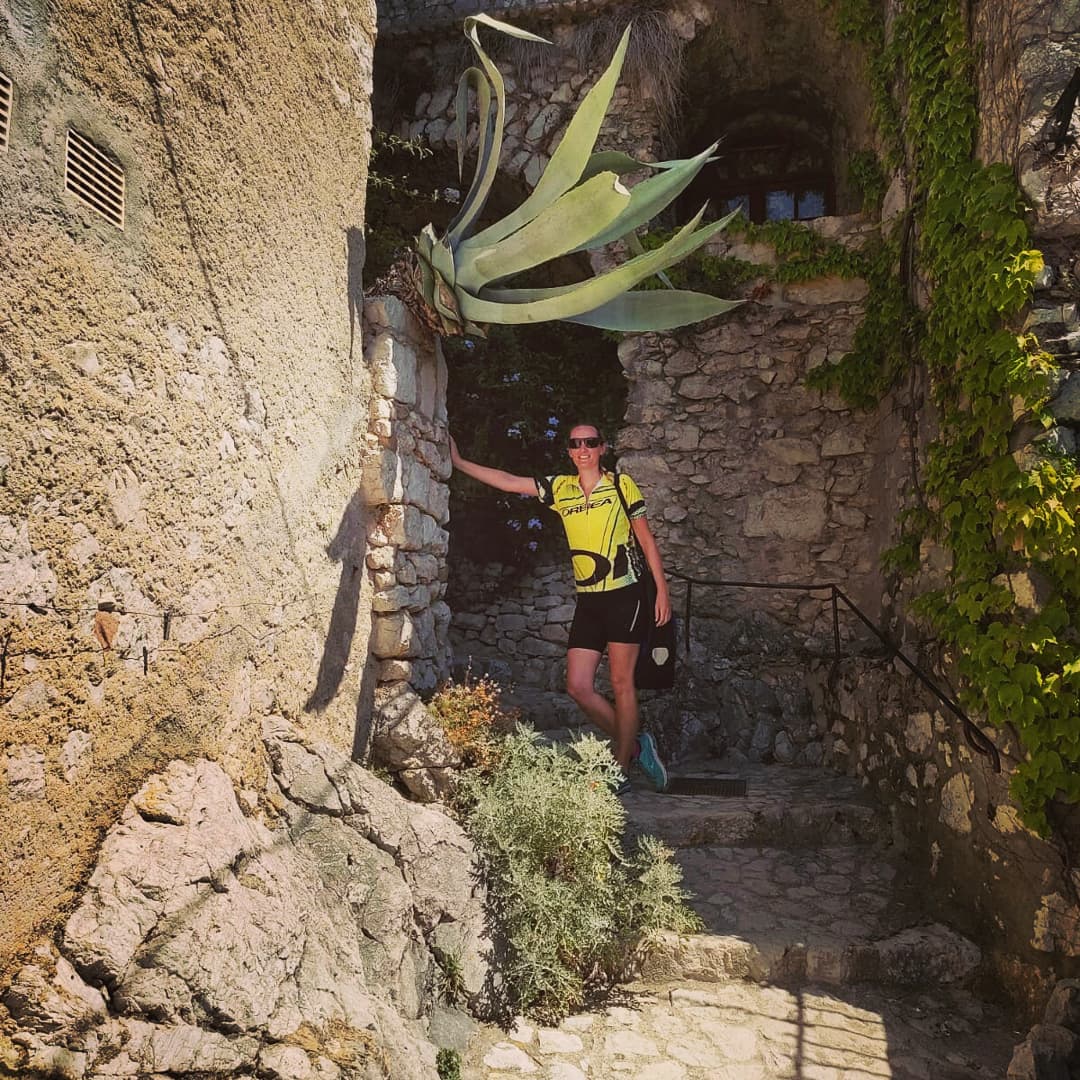 Eventually, one staircase takes us to the church and small square at the highest point of the village. Views of valleys and mountains engulf us but we linger on them only long enough to take photos and catch our breath; a shaded bench under an olive tree is singing out to us.

The goat cheese melts into the yogurt bread which I dashed to make in the morning when we realised we had no bread (a two-ingredient recipe or I wouldn't have bothered). Crisps, apples, and a Twix complete the cycling gourmet lunch. Every bite is wonderful, even if all that is left of the Twix is the biscuit base in a pool of liquid chocolate.

A public water pump is also a blessing. We fill our bottle up, drink like we've had no liquid all day, and fill up again. Then, Matt pours the entire contents over his head and we laugh, remembering how we'd drenched our clothes in the toilet of a cafe in Greece in similar desperation to feel cool.
We see only one other couple. They mooch across the square, take the same photos we took, and disappear. On our way back down to our bikes, a couple of quirky decorations (see photos below) give the village a more lived-in feel, as does the music blasting from one of the dark houses. We stop to listen, surprised to hear something other than our own voices and footsteps. "Cat Scratch Fever" is being sung over and over again, by both a recording and presumably the occupier of the house. A couple of full ashtrays outside the door rest under a small table squeezed into the corner of the alley. The watered grapes and television voices from other dark houses are other signs of life in this precariously placed village; a village where you can't help but say things like, "How do people live here? Do you think Amazon deliver?" as you breathlessly stagger up and down alleyways.
Bellies full, we climb back on the bikes. Voices and laughter from the terrace at the foot of the village still drift over the car park but I no longer have terrace envy. An amazing downhill awaits.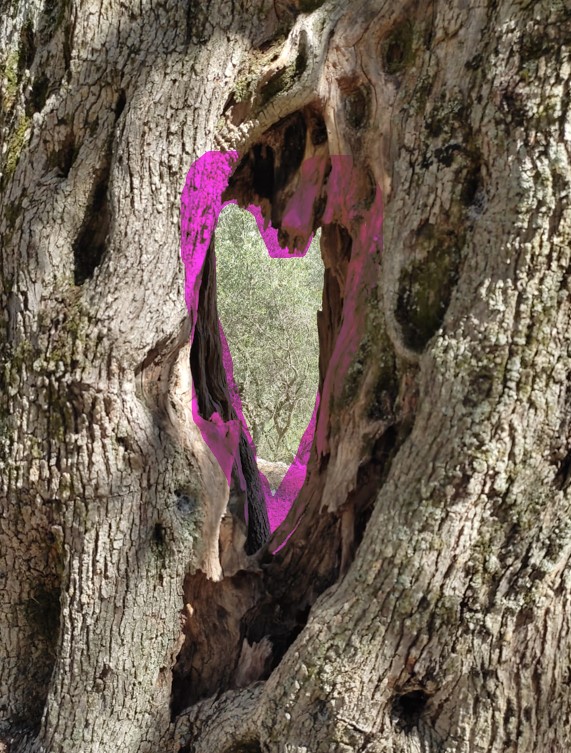 Visited any perched villages?
Would love to hear where in the comments below!