On the morning of the ride, we packed the pavlova into a pannier padded with our change of clothes. We were all set for leaving calmly and getting to our lunch date in good time when Matt discovered we'd make an error with the route timings. We'd forgotten to check the journey on OsmAnd, the app we use for navigation and which is programmed to take into account our slothly cycling speed. We'd only looked at Google Maps, which assumes we're athletic road cyclists on light bikes. The anticipated two-hour journey was probably going to be more like 3 1/2 hours.


"We should phone Pauline," I groaned. "Warn her we won't be there for 12."

Matt didn't want to do that. He was confident we'd still make it. We'd allowed for an extra hour for breathers and taking photos anyway. We'd just have to make sure we kept our heads down. And if we took the middle coastal road (La Moyenne-Corniche) instead of the planned higher one (La Grande-Corniche), the route would be a bit shorter.

We pounded through Nice, racing against every traffic light and winning most, which was unusual in the city which has more lights than a Christmas tree. The pace naturally changed when we began the climb from sea level to La Turbie – a small town at 500m.

The sky was overcast and the Mediterranean wasn't as sparkling as it could be, but I felt incredibly lucky to be out, riding above the French Riviera.

That's the thing with cycling. When you're not doing it, it's easy to worry about distances, ETAs, hills, or, on that morning, our ability to get to a lunch date on time with a pavlova intact. But when you just get out, breathe in the fresh morning air, and feel your body move through it, worries dissipate with each pedal forward and it's easier to feel optimistic, about cycling, and life in general.

There are probably seveal reasons for why that is but I'm convinced one of them has something to do with the pleasure of moving through air. Being outside, in direct contact with your natural environment and moving through it, seems to make us happy, even though sofas and lying on beaches do too. There's evidence of it everywhere, from children's smiles on swings and the joyful screams of rollercoaster passengers to the popularity of dancing, ziplining, skydiving, rafting, inline skating, surfing etc.

The inspiring organisation Cycling Without Age, founded in Denmark but now with affiliates all over the world, takes senior citizens with limited mobility on three-wheeled trishaw rides. Videos of their work show bored, wrinkled faces of men and women, who've been stuck between the same walls of care and retirement homes for years, light up as they get whisked through their local area. Life pumps through their tired veins again as the wind pushes back their grey hairs.

We need to move. It does wonders for both body and mind.

White sailing boats dotted the blue-grey sea and the Cap Ferrat peninsula changed shape with every few hundred pedals. The road snaked around towering limestone cliffs, sometimes bulldozing its way through them. Even on a dull day, light streamed through from the other side of the short cave-like tunnels.
Heavy clouds hung to the old walls of the medieval hilltop village of Èze. Turning round to look back at it from the other side, I wondered how the village could be the perfect setting for a thriller one moment and the backdrop to a fairytale the next.
When I saw the white columns of the Trophy of Augustus rising from behind a church in La Turbie, I felt particularly relaxed. The remains of the Roman monument, originally built in honour of Emperor Augustus to celebrate his victory over Alpine tribes, meant we'd reached the highest point of our route. It was all downhill to Menton from there and so Matt had been right; we'd still arrive on time.
We cruised along the cliff tops above Monaco. Numerous cranes were wedged between tall concrete blocks. They'd be ugly metal giants for anyone on the ground but looked like toys from the height we were at. Other construction machines, not far from the Monte Carlo Casino, marked the principality's most recent land reclamation project. Matt barely glanced down, not wanting to think of his return to work in the morning.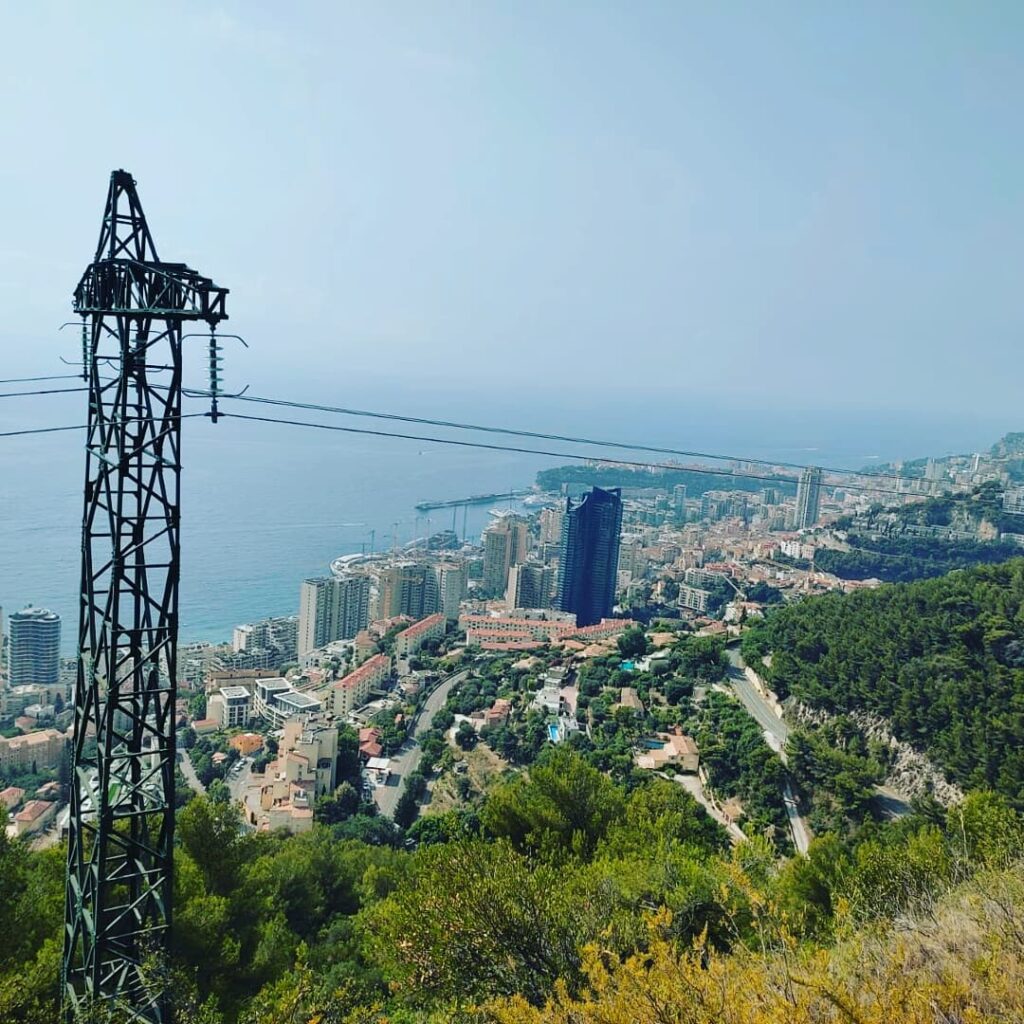 The long road down to Menton was the narrowest and busiest of them all and was a reminder that cycling doesn't always make me glow with cheeriness. Unable to overtake, cars accumulated behind us, and speed bumps, drains, and tree roots jolted the panniers frequently. I gave up all hope of successfully delivering an in-tact pavlova base.

After a short stretch along a coast packed with loud Italian-speaking sunbathers, we arrived at Pauline and Geoff's half an hour early, in a very sweaty state with the grease tattoos down our legs.
Pauline and Geoff didn't mind at all. They immediately rushed to get us ice-chilled glasses of water and praised us for having survived the traffic.

"Oh, pavlova!" Pauline chirped when she realised what we'd brought. "My absolute favourite dessert! I never make it because I can never whisk the eggs correctly."

We warned her that it might very well fall apart when lifted out of the tin but she said it wouldn't matter if it did. An Eton mess tastes just as good.

"You shower first," Matt said. "I'll cut up the strawberries and figs."

As beautiful clean water washed away the dirt and salt, I thought about how fortunate we were to live in the south of France, how gorgeous Pauline and Geoff's house was, how great panniers are, and how I have the best husband ever. Not only is he willing to live an unconventional life of adventure-seeking with me, but he proves to me, time and again, that things I think can't be done, like transporting a pavlova some thirty-odd kilometres by bike up and down hills on traffic-dense roads in the middle of a hot French summer, are, in fact, very possible.